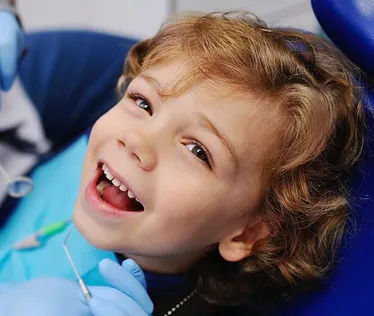 The American Dental Association, The American Academy of Pediatrics with The American Academy of Pediatric Dentistry recommends that a child's first dental visit be by age one.
ESTBLISHMENT OF A DENTAL HOME
A dental home is an ongoing relationship between our dentists and your child and is established at their first dental visit. It allows our specialists to promote prevention, evaluate and monitor your child's growth and development, provide necessary dental services and make appropriate referrals as needed.
A dental home allows you and your child to have a familiar and comfortable environment in which to ask questions and come to for routine dental care and emergency situations.
FIRST VISIT FOR CHILDREN YOUNGER THAN 3 YEARS OF AGE
Your first visit at this age will start by reviewing your child's needs, medical history and addressing any concerns that you may have. We will perform an oral screening, evaluate your child's dental growth and development and risk for cavities. We will discuss oral hygiene instructions, feeding and dietary concerns and review information about oral habits and dental trauma. At this age, most of the children will lay on their parents' lap for their examination.
"We Strive to Make Each and Every Visit to Our Office Fun!"
FIRST VISIT FOR CHILDREN OLDER THAN 3 YEARS OF AGE
Your first visit at this age will start by reviewing your child's needs, medical history and addressing any concerns that you may have. This visit consists of a complete dental and oral exam, cleaning and fluoride treatment. Dental x-rays will be taken based on your child's age and needs. We will evaluate the health of your child's gum tissue and check for cavities. Your child's growth and development and bite alignment will also be assessed.
If further dental treatment is necessary we will discuss the details of the treatment recommendations and treatment options.
WE INVITE YOU TO ACCOMPANY AND STAY WITH YOUR CHILD DURING THEIR VISIT.
Our pediatric team is committed to providing specialized and gentle dental care. We will work with your child's particular needs and personality to make it a positive experience for them. Occasionally, a child may cry during a portion of their visit. This is a normal coping behavior for children. We like to use the "tell-show-do" approach in explaining dental techniques and procedures to your child. Our team will talk to your child in a way that they enjoy and understand.
You can make the first visit to the dentist enjoyable and positive. Inform your child of the visit and tell them that the dentist and their staff will explain all procedures and answer any questions. The less to-do concerning the visit, the better. It is best if you refrain from using words around your child that might cause unnecessary fear, such as "needle", "shot", "pull", "drill" or "hurt". We make a practice of using words that convey the same message without frightening children.
Every appointment ends with a trip up to the sticker station and prize tower to reward your child for a job well done!
---
Motivational Charts
Your child will enjoy healthy dental habits when they use these Motivational Charts. Encourage regular brushing or help them break the thumbsucking habit.
Activity Sheets
Want something fun to do? Print one or all of the below Activity Sheets to see if you can conquer the Dental Crossword Puzzle, find all of the Hidden Toothbrushes, Unscramble the Dental Words, or find the Hidden Dental Words. We know you can do it!